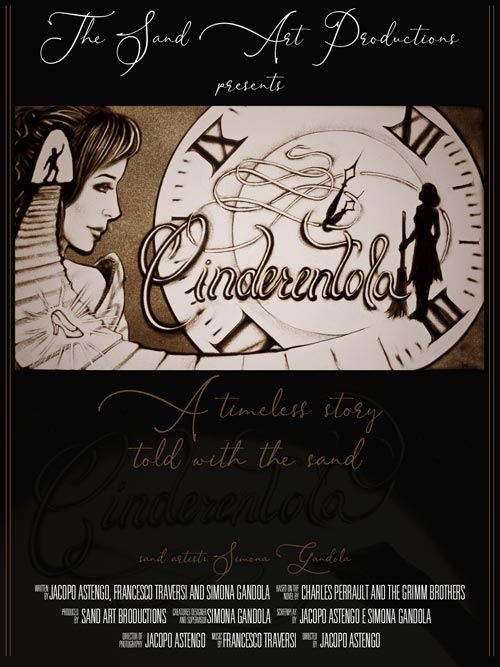 Year: 2018
Country: Italy
Production: Sand Art Productions
Duration: approx. 11  minutes
Audio: Stereo
Format: 16/9
Genre: Short/Cartoon
Subject: Jacopo Astengo, Simona Gandola and Francesco Traversi
Screenplay: Simona Gandola, Jacopo Astengo
Director: Jacopo Astengo
Director of photography: Jacopo Astengo
Music: Francesco Traversi
Editing: Jacopo Astengo e Simona Gandola
Website: www.sandart-sg.com
Link: https://youtu.be/CN8MEYjUxb0
Logline
Cinderentola, a young woman and servant who believes in courage, kindness, and occasionally in magic, is taken by her fairy godmother to a royal dance and, after demostrated  her identity the next day, she conquers the heart of a handsome prince.
Introduction
"Cinderentola", a short film freely taken from the famous classic Cinderella fairy tale and intended as an interaction between two arts such as music and sand art. This union of two universal languages voluntarily omits the verbal narrative, to give more emphasis to emotional suggestions. The unique technique of illustration that is used, in fact, sees the drawings with sand on a light plane, using only the fingers and palms of the hands.  The images are slowly shaped into a metamorphosis that arouses continuous wonder in the viewer, accompanying him on this fairytale journey and overcoming any linguistic, geographical and cultural barrier.
Creator's Statement
Cinderentola is the story of jealousy, virtues and suffering of a simple girl who will fight against the wickedness and selfishness of bad people. The original fairy tale about Cinderella has conquered many generations and all those who believe that a humiliated being will rise and win and that even beauty and virtue must not only be rewarded but also recognized.  With this short film, we wanted to give a sign of hope to all those women who are very often having to fight against gender and class injustices.